King's Lynn incinerator: Back-up plan 'disappointing'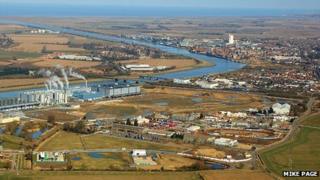 A council leader says he is "bitterly disappointed" that a waste incinerator could still be built in Norfolk if plans for a burner in King's Lynn fall through.
Norfolk County Council's deputy leader, Bill Borrett, said a new incinerator could be proposed if the existing scheme fails at a public inquiry.
King's Lynn council leader Nick Daubney said he was "taken aback" by the claim.
Mr Borrett said alternative technology to existing plans could be implemented.
The £500m waste incinerator, proposed at Saddlebow Road in South Lynn, was approved by Norfolk County Council planners in June.
However, the Department for Communities and Local Government decided to "call in" the application in August for a public inquiry after "substantial regional and national controversy".
Various MPs, local councils and members of the public have been against the incinerator, airing concerns over health and whether it would offer the best solution to Norfolk's waste problems.
The inquiry has now been set for 26 February.
Alternative proposal
Mr Daubney, a Conservative, said: "I'm bitterly disappointed. We had come to the view that an independent inquiry was the answer to this - I'm somewhat taken aback and actually surprised that this can happen."
He also questioned why the county council's contract with the incinerator's developer Cory Wheelabrator specified that another waste scheme must be considered if the existing plans fall through.
Under the contract the developer would be entitled to £20m in compensation if all plans fail.
Mr Borrett, also Conservative, said if the incinerator was pulled after a public inquiry, the county council would look with Cory Wheelabrator at an alternative proposal, that "may or may not be an incinerator".
He said, however, it would be "highly unlikely" that it would be proposed at another location, giving that the council owns the Saddlebow Lane site and it is near to the A47.
King's Lynn Borough Council is currently looking into using its own black bin waste technology to dispose of west Norfolk's waste, to avoid an incinerator being built.
The idea is being put forward to the council on 30 October.