Queen Elizabeth Hospital King's Lynn shuts two wards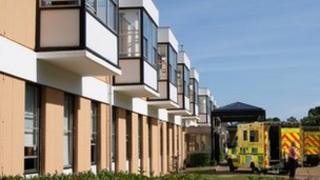 Two wards at a hospital in Norfolk have closed - but managers claim the move has helped to improve the way people are treated.
Queen Elizabeth Hospital in King's Lynn has launched a drive to improve efficiency and make better use of specialist staff.
The hospital is also making more use of day clinics and outreach centres.
A group representing patients described the news as "worrying" and said it would be seeking assurances that patient care would not be affected.
Norfolk Local Involvement Network (LINk) said: "In light of the news, we would seek further information from the hospital on these changes, particularly on what will happen to the patients who currently use the wards and whether closures will have any impact on patient waiting times.
"We would like assurances that the quality of patient care will not be affected."
'No redundancies planned'
The hospital said advances in day surgery and anaesthetics meant people did not have to spend so long in hospital and many could often be discharged on the day of treatment.
Hospital chief executive Patricia Wright said it was making more use of its day surgery unit and the outreach centres at Fakenham and Littleport.
"Concentrating our specialist staff in the wards makes for better patient care if they do have a longer stay," she said.
She denied there was any evidence that patients were being discharged too soon but said staff would monitor the effect of the changes.
John Sweeney, chairman of the joint staff consultative committee at the hospital, said: "We are aware that the management are reviewing services and that they may wish to propose some changes. No planned redundancies are envisaged," he said.
Mr Sweeney said the committee was working closely with management to ensure that staff and patients did not suffer.
"We understand the need for financial planning in respect of services at this time and we aim to ensure that the staff terms and conditions of employment are maintained whilst still delivering the consistently high quality of care to our patients," he said.