Dereham's World War I bomb discovery triggers scare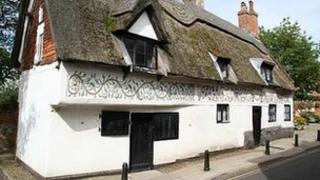 Bomb disposal experts were called out in Norfolk after museum volunteers discovered a box labelled "bomb".
Inside the package, stored at Bishop Bonner's Cottage in Dereham, were three clay balls, packed with gun powder and with wicks sticking out of them.
Bob Davies, vice-chairman of the Dereham Antiquarian Society, took the World War I devices home "for safekeeping".
When he notified the police they sent bomb disposal experts.
He said: "I think my neighbours were quite surprised.
"I thought they had sat on a shelf safely for 90 years so it should be ok to take them home for safekeeping."
It is believed the grenades were made during World War I and were designed to be used in the event of an invasion.
Bishop Bonner's Cottage dates back to 1502 and was Edward Bonner's home when he was rector of Dereham.