Norwich alcohol sales ban proposed after crime rise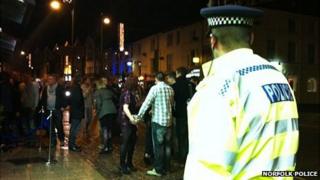 Reductions to late-night drinking hours are a step closer in Norwich following a vote by a city council committee.
Norfolk Police proposed the changes following a rise in crime since nightclub opening hours were extended to 06:00 in 2009.
The council's licensing committee approved plans to cut last orders to 02:30 or 03:00 on weekdays and 03:30 or 04:00 at weekends.
The full council will vote on which hours to enforce on 27 November.
Nightclubs and bars have already voluntarily agreed to stop serving alcohol at 04:00, but the police said they wanted the council to introduce an Early Morning Restriction Order (EMRO) to tackle disorder.
Supt Paul Sanford has said Norwich's growing nightlife was putting a "considerable strain" on policing.
Assaults rise
Police figures show there have been 238 more violent crimes, thefts and acts of criminal damage in Norwich's night-time district of Tombland, Prince of Wales Road and Riverside since clubs opened beyond 04:00 in 2009.
Violent crime increased by 10.6% with common assault up 64.8%, compared to the three-year period before the changes.
The constabulary predicts it has cost £21.8m to police night-time crime in Norwich's party areas since 2009.
It added it now had to direct an additional 12,000 police officer hours per year to key areas to control night-time crime.
In August, nightclubs voluntarily agreed to stop sales of alcohol after 04:00, but the EMRO would make that legally binding.