Norwich's Sparks In The Park fireworks 'good value'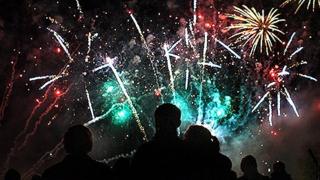 Thousands of people attended Norwich's annual Spark In The Park fireworks event on Saturday with visitors reviewing the night as "good value".
The annual Earlham Park display, organised by Norwich City Council, used £25,000 worth of fireworks watched by about 16,000 people.
A council spokesperson said the event, which included two firework displays, "breaks even with ticket sales".
The council said it was continually reviewed for its "value for money".
Sparks In The Parks has been held for more than a decade.
"We continually review our annual events programme ensuring all our events meet the council's priorities, including a city of character and culture, which provides value for money services," said the spokesperson.
This year's display was staged by the Cambridgeshire-based Kimbolton Fireworks.
The company supplied the pyrotechnics for the Olympics and London New Year's Eve celebrations.
'A good buzz'
James Milson from Norwich said he thought the display "was absolutely fantastic and well worth the money."
Tom Arbour added: "We came down from Leeds to meet the family. The fireworks in Leeds aren't as good as this, so we come to see this display."
Gina Symonds from Norwich said: "I thought it was absolutely awesome, the atmosphere was brilliant, it was really worthwhile.
"I think the music gave it a good buzz, it got me jumping up and down dancing to the music keep warm."