Steve Morphew and Brenda Arthur 'did not declare' interest in charity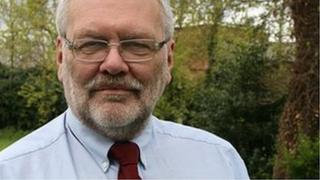 A police and crime commissioner candidate and a council leader did not declare an interest when a charity was awarded a £36,000 grant, according to council papers.
Steve Morphew, then leader of Norwich City Council, and its current leader Brenda Arthur, were at a cabinet meeting in March 2011 when the grant to Voluntary Norfolk was agreed.
Mr Morphew works as consultant for Voluntary Norfolk and Ms Arthur is married to its chief executive, Brian Horner.
But council minutes did not record that either declared an interest in the charity at the meeting where the grant was agreed.
When approached by the BBC, both said they had declared the interest and an administrative error was to blame for it not being officially recorded.
In response, a Norwich City Council spokesman said: "The opportunity to amend the minutes would have been at the following cabinet meeting."
'Chaired the meeting'
Mr Morphew led the council from May 2006 to May 2011, when he did not seek re-election as a councillor.
He is now standing as Labour's candidate in the Norfolk PCC elections on Thursday.
Mr Morphew, president of Norwich Labour Party, was succeeded as council leader in May 2011 by Ms Arthur, who was formerly deputy leader.
Both said they would be challenging the minutes of the cabinet meeting of 16 March 2011 at which a grant of £36,614 to Voluntary Norfolk was approved.
The minutes, approved in June 2011, show that Mr Morphew chaired the meeting and "introduced" the report, detailing grants to voluntary and not-for-profit groups.
They also show that another councillor declared an interest in the same item, but do not record that Mr Morphew or Ms Arthur did so.
Voluntary Norfolk, based in Pottergate, Norwich, supports voluntary organisations in the county.
It has an annual income of more than £3m, mainly through donations from councils and other public bodies, and employs 90 people.
In December 2009, Mr Morphew sold part of his loss-making human resources business, Steve Morphew Associates, to the charity, accounts show.
'Always scrupulous'
The company's fixed assets, contact list and ongoing contracts were acquired by SM Associates, a newly-formed, wholly-owned subsidiary of Voluntary Norfolk.
Mr Morphew has continued to work for SM Associates as a freelance HR consultant.
He said: "I know I always registered Voluntary Norfolk as an interest and can't recall or imagine any occasion when I did not declare an interest in a meeting.
"The grant at this meeting was for a specified purpose that had nothing to do with the work I was doing for them, so there was no direct pecuniary interest.
"However, even if that were the case, I was always so careful that I would have declared an interest, whether or not I strictly had to.
"I am as confident as I can be at this distance that I did declare an interest and somehow it was not recorded. Having been so scrupulous for so long it was just a habit.
"I am writing to the council about this to have it checked and corrected as I am sure it is incorrect and I don't want the record to show something that calls my integrity into question."
'Honest and transparent'
The council spokesman confirmed Mr Morphew had previously registered and declared an interest in the charity.
But he said Mr Morphew would not have had an opportunity to challenge the minutes of the March 2011 meeting since he was no longer a councillor when they were approved.
Ms Arthur said she also believed she had declared an interest.
"At the time, I would not have been required to leave the room for such a personal interest," she said.
"If I made a mistake it was not spotting three months later that the minutes of that meeting did not show that I declared an interest."
Ms Arthur said she was not a councillor in 2008 when Voluntary Norfolk, then called Norwich & Norfolk Voluntary Services, was awarded a three-year grant.
She said she did declare an interest and left the room in March 2012 when cabinet awarded the charity a grant of £42,000.
"I have never made any secret of the fact I am married to the chief executive of Voluntary Norfolk, nor have I any need to," she said.
"I have never been anything other than completely honest and transparent as a serving councillor and anyone who knows me will accept this to be the case."