Stolen Ferrari 430 racing car found in Hempnall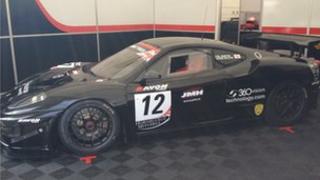 A Ferrari racing car valued at £170,000 stolen from a hotel car park in Norfolk has been found undamaged.
The black Ferrari 430, produced as a race car for the GT3 series, was taken in its trailer from Norwich Road, Hethersett, on Thursday.
It was found inside the unopened trailer on farmland off Pymars Lane, Hempnall, on Tuesday morning.
Norfolk Police said the trailer and car may have been abandoned as the theft was "widely known and reported".
PC Matt Coppard added: "Whilst the trailer and car are being returned to the owner, I would still like to hear from anyone with information about the theft.
"There remains a four-day period when the car and trailer were missing, and someone must have information about where they were being kept and the van that towed them away."