Great Yarmouth 'energy park': Firms may have to relocate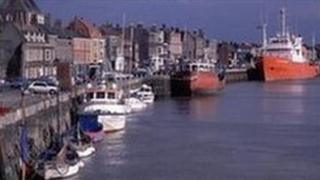 Negotiations are under way to move smaller firms not linked to offshore industries out of a port area in Norfolk to build a new "energy park".
Great Yarmouth Borough Council is talking to firms in the South Denes area between the outer harbour and river port berths.
Jane Ratcliffe, the council's deputy managing director, said money could be on offer to facilitate any moves.
Critics of the scheme claim there would be disruption to businesses.
Ms Ratcliffe, who is taking a lead on the project, said it would take several years to bring to fruition but the ultimate aim was to bring new firms and jobs to the town which already has a number of companies supplying and servicing North Sea gas and oil installations and exploration.
The objective is now to expand its renewable energy sector. There is already a large wind farm operating offshore of the town on Scroby Sands.
"The energy industry is now telling us it would be great if the South Denes were tidied up and better quality accommodation built," she said.
Council to take lead
"Our perspective is to release land for private developers but the last thing the council wants to do is to drive businesses away especially large employers based in the area.
"We want to attract new businesses to bring jobs for local people.
"I firmly believe we can do well out of the next round of offshore development.
"We don't want to miss out as I believe we did in the 1970s."
One firm that has moved into new accommodation in the area is delighted by the plans.
Blair Ainslie, chief executive of offshore service company SeaJacks UK, said: "There is a lot of land that is under-utilised, poorly employed or not used at all.
"Buildings that people have been in too long could also do with some regeneration.
"It is vital the council takes the lead in making facilities available for the offshore industry."
Some of the firms affected want compensation for the downtime and disruption caused by a relocation.