Dad's Army Museum raises £10k to repay Jones' van cost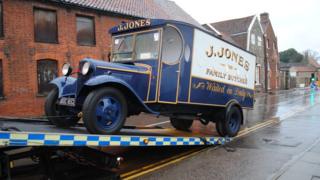 A museum that won a piece of Dad's Army memorabilia at auction after receiving money from benefactors has raised more £10,000 to repay the £63,100 cost.
The Dad's Army Museum in Thetford - the Norfolk town in which the popular BBC comedy was set - had appealed for funds to buy L/Cpl Jones's butcher's van.
Two Norfolk families, the Pearsons and the Jenkins', bought the van at a Bonham's auction earlier this month.
Now the museum has to raise the money to pay back the two families.
Corinne Fulford, manager of the museum, said the van had created a lot of interest.
She said it had now arrived at the museum and their fundraising drive had passed the £10,000 mark.
Home Guard
"It's so synonymous with Dad's Army," she said.
"People have been giving donations in memory of their father or of people who were huge Dad's Army fans.
"And we have sold more vouchers for our Dad's Army walking tours next year in the last two weeks than we sold in the whole of last year."
L/Cpl Jones - whose catchphrase was "don't panic" - was played by Clive Dunn, who died on 6 November aged 92.
The 1935 Ford box van had been forecast to sell for between £20,000 and £30,000 when it went under the hammer at Bonhams in Weybridge, Surrey on 3 December.
Ms Fulford said there would be a "celebratory launch" of the van when the museum reopened after its annual break on 30 March 2013.
Dad's Army ran for nine years from 1968 to 1977 and featured the exploits of a Home Guard platoon formed to protect the seaside village of Walmington-on-Sea from possible German attack during World War II.