Norfolk Police officers trial collar-and-tie uniform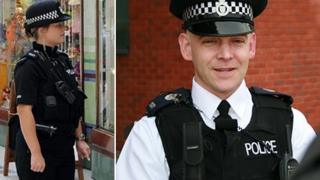 Police officers have returned to a traditional collar-and-tie uniform as part of a trial scheme in Norfolk.
The pilot, involving 47 officers in Wymondham, replaces the black zip-up polo shirts that were introduced in 2008 at a cost of £34,000.
Research suggests people regard police as "more professional" in a collar and tie, said a force spokesman.
He added: "The shirt offers a return to the familiar look of the British bobby while maintaining officer comfort."
Assistant Chief Constable Gareth Wilson said: "Norfolk Constabulary is one of the top performing forces in the country and we are proud of the service our officers deliver.
"The new white shirt is practical whilst projecting an image that is professional and smart and has been designed to meet the rigours of modern day policing."
It is not yet clear how much the switch would cost if rolled out to all of Norfolk's 1,500 officers.
'Positive first impression'
Dave Benfield, general Secretary of Norfolk Police Federation, welcomed the move.
He said: "Our members will continue to provide a first-class policing service whatever uniform they are required to wear.
"However, the federation view is that a return to white shirts can only enhance that positive first impression which individual officers strive to achieve."
The final decision to roll out the new uniform will be based on feedback from officers and members of the public.