Norfolk County Council leader Derrick Murphy standards case 'should be heard by outside authority'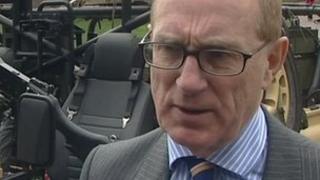 Labour is calling for a standards committee hearing into the conduct of Norfolk County Council's leader to be held by another authority.
Conservative Derrick Murphy has temporarily stood down as leader to contest complaints relating to an email about the leader of another council.
George Nobbs, county council Labour group leader, said the public might question any decision by the standards committee, which includes five Tories.
Mr Murphy said he had no comment.
A date has yet to be confirmed but the council's standards committee hearing is expected to take place on 1 February.
'Very difficult position'
The panel is made up of five Conservatives, one Liberal Democrat and one Green councillor.
"It puts them in a very difficult position. Whatever way they go, people are going to question their motive," said Mr Nobbs.
"I don't doubt that they will come to an honest conclusion but the public will not see it that way.
"From the point of view of public perception, we should ask a neighbouring authority to look at this for us."
The complaints against Mr Murphy relate to an email sent by Kevin Vaughan, a Conservative political assistant at County Hall, regarding West Norfolk Council's Conservative leader Nick Daubney.
An independent investigation, commissioned by the council, concluded that in sending the email, Mr Vaughan had been acting on Mr Murphy's wishes.
'Make it public'
Mr Daubney said the email was a "serious attempt to undermine my position" and has called on Mr Murphy to stand down permanently.
Henry Bellingham, Conservative MP for West Norfolk, said the county council should make public the report it commissioned from local government expert Jenni Richards QC, which concluded Mr Murphy had a case to answer.
"I think it's quite important that Jenni Richards attends the meeting of the standards committee, which the rules allow, so she can answer questions and provide advice," he said.
"In the interests of transparency and openness, why can't the meeting be open to the press and public? That would put a lot of people's minds at rests."
Mr Murphy has already said that he had requested a public hearing. and expected to be cleared by the committee.
The email at the centre of the controversy was sent last April by Mr Vaughan to BBC Radio Norfolk.
'Serious leadership challenge'
It was sent two days before Mr Daubney, leader of West Norfolk Council, was due to appear on the station to discuss a proposed waste incinerator at Saddlebow, King's Lynn.
The incinerator is backed by the county council but opposed by West Norfolk Council.
The email, released after a Freedom of Information request, said that Mr Daubney was facing "a serious leadership challenge" and that his council had failed to procure alternative technology to the plant.
Norfolk County Council said it took "appropriate action" but that Mr Vaughan's actions had not warranted his dismissal.
However, he later resigned after declining an offer of redeployment within the authority.
Mr Murphy has said he plans to call him as a witness at the standards hearing.