Snow shuts hundreds of Norfolk schools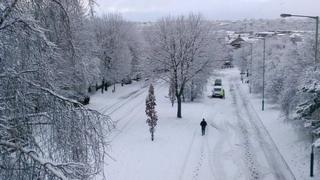 Heavy snow and freezing temperatures have forced the closure of more than 260 schools in Norfolk.
Greater Anglia trains between Norwich and London are being delayed after a car slid on to a rail crossing in Suffolk, but Norwich Airport has now reopened after being shut for 24-hours.
Police said most of the county's roads remained passable "with extreme care", but only recommended essential travel.
Light snow showers are possible in the county later, the Met Office said.
Temperatures in Norfolk have remained below freezing during Wednesday. Marham recorded a temperature of -13.1C (8.4F) overnight, the lowest in the UK this winter.
Gritter crash
Morning rush hour motorists experienced delays on the A47 dual carriageway heading into Norwich with similar problems on the A140.
The Costessey park and ride station into the city has been closed for the day, but all others are open, its operator said.
A police spokesman said it had dealt with a further five crashes before 09:30 GMT, adding to the 84 across Norfolk on Tuesday.
Norfolk County Council's highways service said a gritter came off the road in the early hours at Griston, causing damage to the vehicle but the driver was unhurt.
Nigel Seago, from the service, said: "We're experiencing very low temperatures and it's going to slow the pace of the recovery of the road network."
Drivers have also faced ice and heavy fog in the sub-zero temperatures.
BBC Radio Norfolk reporter Jill Bennett said the main coast road in north Norfolk had been gritted, but all the side roads and pavements were like a "sheet of ice".
The severe weather caused widespread problems on Tuesday, with an afternoon snow storm causing gridlock on Norwich's roads and people reporting that short journeys were taking hours.
In the city a police car struck two people, but no-one was seriously injured.
Grapes Hill on the main inner ring road was also shut as drivers struggled to get up it. People were seen abandoning their cars.