Norwich Sparks in the Park to move to city centre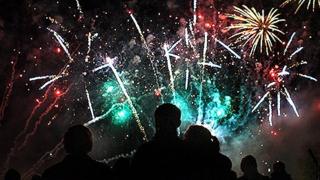 The annual firework display held for several years near Norwich is to become a free event in the city.
A 12-minute firework display will be held at Norwich Castle on 8 November instead of Sparks in the Park at Earlham Park.
Organiser Norwich City Council said it would have had to increase ticket prices for a display in November 2013.
It said it was not prepared to "pass this cost on to families". Adult tickets in 2012 cost up to £7.50.
The council said it did not have a figure for the price increase.
'Broke even'
Thousands of people attended Sparks in The Park each year, with fairground rides, stalls and food also on the site over the weekend closest to 5 November.
It has been named Sparks in the Park for about 10 years but a firework display has been held at Earlham Park for at least 20 years.
Last year, it used £25,000 worth of fireworks and was watched by about 16,000 people, with the council saying at the time that it "broke even with ticket sales".
A "traditional bonfire night celebration" with a funfair, hotdogs and candyfloss will still be held at Earlham Park, on a separate date and by a commercial partner, it added.
Revenue from the rental of Earlham Park, sponsorship and existing budgets will fund the Norwich Castle display.
It said moving the display would make it accessible to everyone in the city, with more public transport and parking options.
Council leader Brenda Arthur said a city centre display would also boost trade at restaurants, pubs and other businesses.
The council added that holding the display on a Friday would give families the chance to go to other displays on Saturday.