Norfolk ambulance delays in Catherine Barton crash death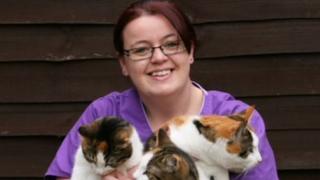 Delays by the ambulance service "substantially reduced" the chances of a crash victim's survival, a coroner has said.
Catherine Barton, 27, was trapped in her car for more than 90 minutes in Norfolk in August 2011, an inquest heard.
Coroner for Norfolk William Armstrong, was highly critical of "omissions" in the emergency response.
Miss Barton died shortly after she was freed from the car, near Thetford.
The student veterinary nurse, of Brandon, Suffolk, was described at the inquest as a wonderful person with a zest for life.
Mr Armstrong said she "could not have avoided the collision", at about 22:00 BST on 5 August.
'Overwhelmed" paramedic
She was driving her best friend Hannah Roper on the B1107 Brandon Road, near Thetford Golf Club, when her Ford Ka was in collision with a VW Golf that had been avoiding a deer.
She suffered multiple injuries.
A volunteer first responder was on the scene by 22:22 BST and an ambulance arrived with paramedic Fiona Turner at 22:34 BST.
Ms Turner admitted she was "overwhelmed" by what she saw, did not check Miss Barton's chest, did not use a heart monitor correctly and took too long to put a canula in.
She has since been disciplined by the ambulance service.
The inquest heard a critical care team and an emergency doctor were called, but neither arrived until a few minutes after Miss Barton was freed from the car at 23:40 BST, and died at 00:22 BST on 6 August.
Recording a narrative verdict, Mr Armstrong was highly critical of the ambulance service.
'Clearly in pain'
He said: "Despite Catherine Barton's predicament there were omissions in providing appropriate medical resources in a timely fashion; carrying out an appropriate assessment; recognising the deterioration in her condition, and employing appropriate forms of intervention.
"As a result, there was a significant delay in extricating her from the car and transferring her to hospital by ambulance, which did not take place until over an hour and a half after the collision.
"As a consequence of these failures, Catherine Barton's prospects of survival were substantially reduced."
He praised her family, the police and fire service.
Speaking after the hearing, PC Chris Tremlin, who was first on the scene, said: "She was clearly in pain, she was clearly suffering.
"When you can't do anything, you watch her life slip away, it's difficult not to be able to do what you want to do when you don't have the resources."