Gritters out as more snow expected in Norfolk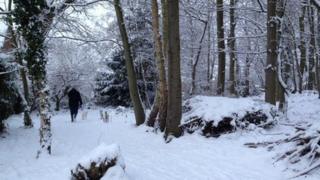 Gritting lorries have been out across Norfolk as more snow is predicted over the weekend.
Rail services were also affected by the weather, with Greater Anglia trains between Norfolk and London subject to delays and cancellation.
Norwich Airport was closed for a short time and when it reopened passengers boarded delayed flights but some have been cancelled.
Anglian Buses did not run services and First buses only stopped on main roads.
Train company Greater Anglia said there were speed restrictions on many of its lines because of concerns snow falling off carriages at high speed could damage motors, track equipment and signals.
The company said it planned to run trains on all routes and to provide a full timetabled service on the majority of lines.
There are delays on East Midlands train services between Norwich and Ely.
Graham Plant, Norfolk County Council's cabinet member for planning and transportation, urged drivers to make only unavoidable journeys.
The A47 was closed in both directions at Tuns Road, in Necton for most of the morning, after a lorry left the road and went into a ditch.