Snow forecast for Norfolk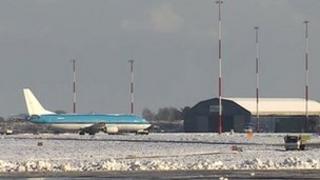 More snow has been forecast for Norfolk on Tuesday following a day on which 279 schools were closed across the county.
The temperature was expected to dip to -5C (23F) early on Tuesday morning with sleet and snow showers in places.
Norwich Airport was closed for a short time on Monday, while Anglian Buses did not run services all day and First buses only stopped on main roads.
Train firm Greater Anglia said there were speed restrictions on many lines to prevent damage to equipment.
It said on Monday snow falling off carriages at high speed could damage motors, track equipment and signals.
The Met Office expects the rest of Tuesday to be dry but cloudy.
The latest information on school closures can be found here.