Heavy snow doubles Norfolk road accidents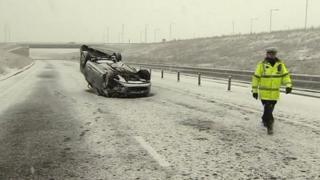 The number of accidents on Norfolk's roads almost doubled during a week of heavy snow, when the amount of traffic on the roads halved, a BBC Inside Out investigation has found.
An average of 18cm (7in) of snow fell across the county from 14 to 21 January, resulting in 355 accidents, up from 180 the previous week.
Norwich city centre became grid-locked on 15 January because of the snow.
More than 3,000 tonnes of grit was used during the week on Norfolk's roads.
Figures from The Royal Society for the Prevention of Accidents charity show passengers are more likely to be killed or seriously injured if involved in a road accident in snow and ice.
A spokesman said: "When we have prolonged periods of snow we tend to see a fall in the overall number of road casualties because fewer people take to the roads.
"However, as would be expected, we also see more people being killed and injured in accidents that happen at times when road or weather conditions are snowy or icy."
'Lack of lighting'
When driving in severe weather "each driver is responsible for their own actions and must take into consideration everything that's going on around them," said a police spokesman.
PC Chris Tremlin, from Norfolk Police, added: "The biggest thing is the lack of lighting and clearing snow from the vehicle.
"People worry about clearing the windscreen, but never from the back, snow from the bonnet or roof and most importantly never from the lights.
"So they all drive with their lights on but you can't see the front of the vehicle because it's covered in snow."
More on this story on BBC Inside Out East at 19:30 GMT on Monday 28 January