Sculptor Thomas Crompton jailed for seven and a half years for killing wife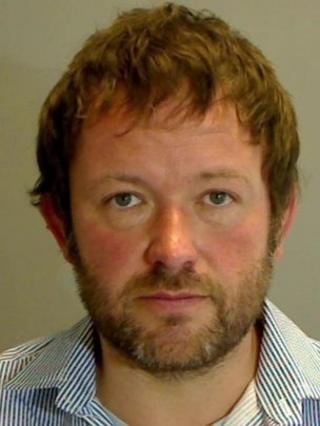 A metalwork sculptor has been jailed for seven and a half years for the manslaughter of his wife, who he attacked with a hammer at their Norfolk home after a row about decorating.
Thomas Crompton, 39, of Manor Farm Cottages, in Arminghall near Norwich admitted killing Angela Crompton but denied murder.
He was found guilty at Norwich Crown Court on 14 December.
Mrs Crompton was hit with a hammer her husband used in his work last June.
She died at Addenbrooke's Hospital in Cambridge two days after the attack.
Stormy relationships
During a nine-day trial, the court heard witness statements describing Mrs Crompton's troubled life and stormy relationships with several male partners.
Jurors found her husband guilty of manslaughter due to loss of control.
Mrs Crompton's family they were "deeply disappointed" with the outcome.
In a statement released after the sentencing, they said: "The fact the defendant will only serve half of today's sentence before being released is merely salt in the wound.
"His actions have left three deeply bereaved children to grow up without a mother and have put all our family through a dreadful ordeal of intensive care, funeral and court.
"During the court case it felt that Angela herself was on trial, and in many ways that has been the hardest part for us.
"We feel Angela and her family have been let down in this case by the justice system."
The court heard that on the afternoon of 11 June 2012, Crompton had been working with a colleague in his foundry.
While taking a break he returned to the house and argued violently with his wife, with witnesses hearing crockery being smashed.
Jurors heard that Crompton tried to strangle his wife before attacking her with the hammer.
He told the court that as their relationship had developed he had become obsessed with her.
She had previously left him suddenly, which Crompton said hurt him considerably because they had been talking about marriage.
When they got together again Crompton said: "I was cautious about how it would develop."
The couple decided to marry, but Mrs Crompton was not happy in her husband's house and wanted to redecorate.
This caused the argument that led to her death, the court heard.