Kidz Breakfast: Giant breakfast boosts cafe's business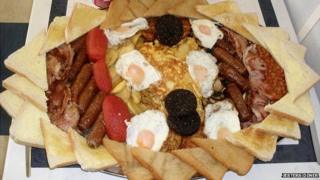 It prompted calls for it to be banned and had one expert warning that someone could die after eating it.
But the "Kidz Breakfast", described as weighing the same as a small child, has remained the talk of a Norfolk seaside town.
Consisting of a dozen sausages, 12 bacon rashers and enough eggs to be produced from a coop of chickens in a week, Jesters Diner's fry-up in Great Yarmouth contains more than 6,000 calories and weighs in at 9lb (4.08kg).
But despite hundreds being sold after it was first put on the menu 18 months ago, only one person has managed to eat "the baby".
"Only one man has finished it - Robert Pinto," said 43-year-old cafe owner Martin Smith, who said he had seen his business boom since his mammoth breakfast hit the headlines a year ago.
"We knew he was coming because he called up and we booked him in. We just thought he was another have-a-go hero. No-one else had even got halfway through."
After consuming it in just in 26 minutes, competitive eater Mr Pinto, of Stamford, Lincolnshire, who weighs just 11st (70kg), said: "I don't even like breakfast, I just do it for a laugh."
Mr Smith has built up a community on Facebook, with people regularly posting pictures of them gorging on his menu.
He defended the huge meal, saying: "It is what it is. It was done as a laugh and 99% of the population understands that.
"I've not had a single health official phone me up to complain. I'm just one guy with a few staff trying to get people to have a good time. It's a once-in-a-lifetime challenge."
However, Prof David Haslam, from the National Obesity Forum, said: "It is totally irresponsible and sending out the wrong message.
"It should be banned. You can't eat a meal the size of a baby if you want to stay healthy, but if restaurants won't stop providing it, we need to educate the customer not to eat it."