Ex-RAF radar base in Norfolk up for sale on eBay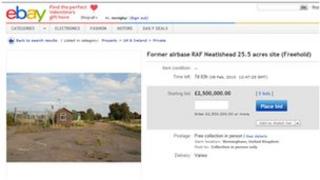 A former RAF radar base in Norfolk has been put up for sale on eBay with a minimum price tag of £2.5m.
The 25.5 acre (10.3 hectare) Neatishead base, near Wroxham, includes a high-security fence, a Cold War underground bunker and a helipad.
The site opened in 1941 and played a key role in monitoring Britain's skies during World War II and Cold War.
Since being decommissioned in 2006, the base has been largely unused and a new owner is being sought.
While this is described as a "substantial" reduction from its previous value, the seller stressed that serious bids would be needed.
Agent Nick Barlow, from Midlands-based Barlow Associates, said the base had been on the market for some time and he hoped the eBay listing would attract extra interest.
'Storage centre'
He said: "There's only so much you can do in property magazines so we thought we'd try this and it has proved remarkably effective.
"It is something slightly different for people who wouldn't otherwise have heard about it.
"The site has potential for a wide range of uses. The underground bunker would be a very good data storage centre and its proximity to the Norfolk Broads and the coast open up leisure possibilities."
Mr Barlow added that while the sale was unusual, cuts to defence budgets mean more opportunities are likely to open up for anyone wanting to invest in a former military base.
There are 16 buildings on the site, including former radar rooms, tennis and squash courts, station headquarters and the old officers' mess.
Birmingham-based Stylespace bought the land from the RAF in 2006 for a reported £4m but it has proved unsuitable for their plans.
The RAF still carries out communication work for aircraft on a small part of the site. This would remain, alongside the RAF Air Defence Radar Museum, which was established on the air base 14 years ago.
Although the page has attracted more than 4,000 hits, so far no offers have been made. Bidding ends next Friday.