Derrick Murphy, Norfolk County Council leader, censured by standards panel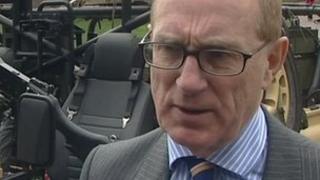 Norfolk County Council leader Derrick Murphy has been censured for bringing his office into disrepute.
A standards committee ruled on Friday that the Tory leader of the council should receive training in ethics.
However, Mr Murphy was cleared of various accusations relating to an email sent to the BBC disparaging Nick Daubney, Conservative leader of West Norfolk Council.
The standards hearing was told of "internal warfare in Tory Party".
Giving evidence to the panel, Norfolk County Council chief executive David White admitted secretly recording a phone call with Mr Murphy.
He told the hearing that Mr Murphy - who denied any wrongdoing - had been "evasive" in his dealings with him.
Mr Murphy was accused of telling council officer Kevin Vaughan to send the email disparaging Mr Daubney.
Mr Vaughan told the standards committee that Mr Murphy also asked him to blame other councillors for the communication.
Incinerator row
The email at the centre of the allegations against Mr Murphy, who stood down temporarily as council leader last month, was sent last April by Mr Vaughan to BBC Radio Norfolk.
It was sent two days before Mr Daubney was due to appear on the station to discuss a proposed waste incinerator at Saddlebow, King's Lynn.
The incinerator plan is backed by the county council but opposed by West Norfolk Council.
The email, released after a Freedom of Information request by Mr Daubney, suggested it might be "pertinent information" for the presenter to know that Mr Daubney was facing "a serious leadership challenge" and that West Norfolk Council had not come up with an alternative to the incinerator.
Mr Daubney has called on Mr Murphy to stand down permanently, claiming the email was a "serious attempt to undermine my position".
The standards committee was convened on the recommendation of local government expert Jenni Richards QC, who was commissioned by the county council to conduct a report into the controversy.