Derrick Murphy not to return as Norfolk County Council leader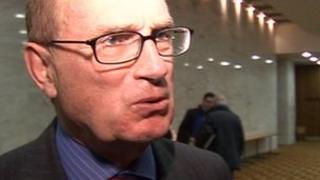 The leader of Norfolk County Council is not seeking to return to the post.
Derrick Murphy announced his decision after a standards committee found he had brought his office into disrepute and needed to receive ethics training.
However, Mr Murphy, a Conservative, was cleared of accusations relating to an email that was sent to the BBC.
Mr Murphy, who stood down temporarily as council leader last month, said the committee had raised issues he would now be pursuing with the council.
The email disparaged Nick Daubney, Tory leader of West Norfolk Council.
The standards committee held on Friday heard that Mr Murphy told council officer Kevin Vaughan to send the email.
Mr Vaughan said he was also asked to blame other councillors for the communication.
Mr Daubney said: "It think it's absolutely right this was investigated.
"I've always felt it was not the way a council leader should behave and I'm glad the standards board have come to the same conclusion."
'Illicitly' recorded conversation
Following Friday's hearing, Mr Murphy said it would be "incompatible" for him to be leader while he pursued "issues" with the county council.
He said he had been shocked during proceedings to hear county council chief executive David White admit secretly recording a telephone call between them.
"My big concern in this case is that an illicitly recorded telephone conversation of which I had no fore-knowledge or approval was submitted to this particular inquiry as evidence," he said.
In an email to the council's Conservative group members on Friday night, Mr Murphy said the committee hearing had "raised a number of very important issues which, I feel, I am honour bound to pursue against Norfolk County Council.
"Therefore I am resigning as leader and chairman of the Conservative group.
"My first loyalty has always been to the Conservative Party and the last thing I would like to see is for me to become an issue in what will be a very hard fought election."
A full leadership election will now be held by the Norfolk Conservative Group - triggering a potential leadership battle ahead of the elections in May.