Queen's rose-grower Peter Beales honoured at funeral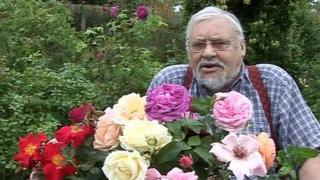 Hundreds of mourners have gathered for the funeral of an award-winning rose grower.
Peter Beales, who grew the Queen's rose for her Diamond Jubilee last year, died last month, aged 76.
Mr Beales' funeral was held at St Mary's Church in Attleborough, Norfolk.
Hymns included We Plough The Fields and Scatter and Morning Has Broken, and the service featured a BBC Shipping Forecast in celebration of Mr Beales's love of the natural world.
Mr Beales dedicated his life to roses, breeding varieties for the Queen, the Queen Mother and Prince Charles, and winning 19 Gold medals at the Chelsea Flower Show.
He was awarded the Victoria Medal of Honour by the Royal Horticultural Society in recognition of his success as a grower, which began in 1968, when he opened his business in Swardeston, near Norwich.
Peter Scott, of the Historic Roses Group, said: "To our group he's almost a deity because he made it possible for all of us who were so interested in these roses of the past to be able to grow them.
"He brought them back into commercial production and so we could go and buy these heavenly roses and grow them in our gardens and that is his legacy."
Mr Beales' daughter Amanda said her father was a "wonderful man" with a love of the natural world and "an appreciation of the beauty of the sky and the seasons".