Lib Dem Andreas Yiasimi wins Cromer by-election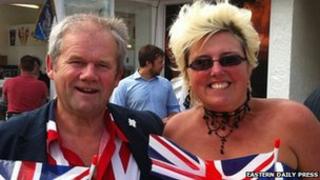 A by-election following the death of a council leader suspected of shooting his wife before killing himself has been won by the Liberal Democrats.
Keith Johnson, 58, who was Cromer town councillor on North Norfolk District Council, and his wife Andrea, 44, were found dead on 2 December.
The by-election for the Conservative councillor's seat was held on Thursday.
It was won by Lib Dem restaurateur and photographer Andreas Yiasimi, with a majority of 318 over Labour.
The UK Independence Party came third and the Conservatives came last.
On 13 December, 600 mourners attended the joint funeral of Mr and Mrs Johnson.
Police believe Mr Johnson killed his wife outside their home at Compit Hills in Cromer before turning the gun on himself.
The couple had been together for 18 years and married in 2004.
Mrs Johnson's parents, John and Janice Chadwick, have said they feel "no animosity" towards Mr Johnson.