Redwings Horse Sanctuary rescues 26 ponies 'queuing to die'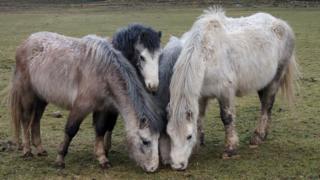 "Malnourished" ponies that were "queuing to die" have been rescued by a Norfolk-based horse sanctuary from a private owner in Wales.
The 26 ponies, rescued from two sites in Caerphilly by the Redwings Horse Sanctuary, arrived at the charity's Piggot's Farm, Tasburgh, on Thursday.
Nic de Brauwere, Redwing's head of welfare, said the rescue scene was "horrific" and "heart-breaking".
The operation was led by Caerphilly Borough Council trading standards.
A spokesman said: "This case is the subject of an ongoing investigation by Trading Standards and therefore we are unable to reveal specific details... at this time."
Redwings sent three lorries, two vets and eight handling staff to the site to bring the animals to the Norfolk sanctuary.
Councillor David Poole, cabinet member for community and leisure services, said he was "appalled" the ponies could be kept such conditions.
He added: "This was an excellent example of a local authority working with animal welfare organisations to protect animals in need.
"These horses are now receiving expert care to get them back to health."
'Separating the dead'
Veterinary surgeon Mr de Brauwere said: "It was a horrific scene, with many extremely weak and malnourished ponies.
"They are in varying stages of emaciation, we have given them a condition rating which matches the Amersham horses.
"Some of the horses are already dead, and others would almost certainly have died if we had not intervened when we did.
"I can only describe it by saying it was as if they were queuing to die. It was an utterly depressing and heart-breaking scene."
Four others ponies from the rescue have been taken to HorseWorld in Bristol, while four more have already been removed to the Society for the Welfare of Horses and Ponies in Monmouth.
Mr de Brauwere added: "It's just awful to find yourself again separating the dead horses from the living and asking yourself how anyone can let this happen."