Redwings Horse Sanctuary: Rescued ponies 'turned corner'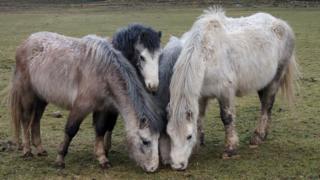 Ponies so malnourished they were said to be "queuing to die" when they were rescued by a horse sanctuary are making good progress, the charity says.
The 26 ponies, rescued from two sites in Caerphilly by the Norfolk Redwings Horse Sanctuary, arrived at their Piggot's Farm, Tasburgh, last month.
The operation was led by Caerphilly Borough Council trading standards.
Nic de Brauwere, Redwing's head of welfare said the health of the animals had "turned a corner".
The ponies had been extremely weak and malnourished and were in varying states of emaciation when they arrived at the sanctuary on 21 February, Mr de Brauwere said.
'Improving daily'
"We have to treat their condition carefully, with managed levels of feed, plus we have had to treat their physical conditions such as lice, etc," he said.
"They have turned a corner and we can see their moods improving daily, which makes it all worthwhile."
Mr de Brauwere said at the time of the rescue the ponies had looked as though they had been "queuing to die".
Caerphilly Borough Council said the case was the subject of an ongoing investigation by trading standards.
Redwings sent three lorries, two vets and eight handling staff to the site to bring the animals to the Norfolk sanctuary.
Four others ponies from the rescue were taken to HorseWorld in Bristol, and four more suspected to be linked to those responsible were removed to the Society for the Welfare of Horses and Ponies in Monmouth.
The group have been named after famous detectives and crime writers, including Agatha, Tuppence, Scully and Sherlock.
Five years ago, Redwings was involved in the rescue of 21 horses, ponies and foals from a farm in Amersham, Buckinghamshire.