Bernard Matthews 'illegal' tree felling investigated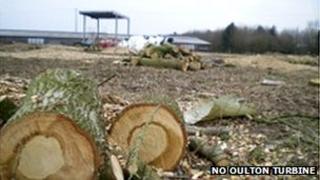 The Forestry Commission is investigating claims that poultry producer Bernard Matthews illegally felled more than 300 trees in Norfolk.
Oulton Parish Council reported the company to Broadland District Council for felling the trees on the site of a proposed wind turbine near Aylsham.
Campaign group No Oulton Turbine called the felling "environmental vandalism".
Bernard Matthews Farms said the trees were a risk to bats but that others had been planted to "offset" their loss.
The area cleared of trees is next to the proposed site of a 262ft (80m) high wind turbine near Bernard Matthews' turkey sheds in Oulton.
'Breath-taking arrogance'
Campaign group No Oulton Turbine said 342 mature trees, including oak, ash, sweet chestnut, rowan and Corsican pines, covering three-quarters of an acre, had been felled.
It said they had been planted to screen the sheds from the village as part of planning conditions imposed in 1991.
Sam Booker, who lives in Oulton, said: "This would appear to be an act of both breath-taking arrogance and environmental vandalism by Bernard Matthews.
"The community is deeply shocked and more determined than ever to fight the company's bid to erect a wind turbine on the scale of Big Ben in this very special part of Norfolk."
A spokeswoman for Broadland District Council said the authority's conservation officer had visited the site.
"There is no indication that any further trees are under threat and so there is no immediate intention to consider serving a Tree Preservation Order. However, this matter will be kept under review," she said.
'Small risk'
"The council is reviewing whether it can take any action under conditions imposed as part of the 1991 planning permission for the nearby turkey sheds."
She said the council had received a planning application for a wind turbine on the site, for which consultations were beginning this week.
"The felling of the trees will not affect the likelihood or otherwise of the turbine being granted planning permission," she added.
A Forestry Commission spokesman said: "We have had a report of a suspected illegal felling.
"We have been on site to investigate the situation and still have more information to gather before we can make a final report and establish whether or not the trees have in fact been felled illegally."
A Bernard Matthews Farms spokesman said: "As part of the planning process for the proposed wind turbine we carried out an ecology assessment of the site.
"A small potential risk to local bat populations from the proximity of trees to the proposed turbine was identified, and following recommendations, we removed some of the trees on the site.
"We have since planted new endemic trees to offset those that were removed."