Rare Norfolk maps added to county archive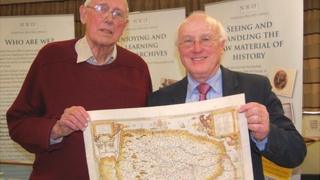 Rare maps charting Norfolk's history over 300 years have been donated to the county's archive for the public to see.
More than 120 maps, created between 1574 and 1840, have been given to the Norfolk Record Office by Raymond Frostick - a former county council chairman and map collector.
Among them are unusual maps on playing cards from the 17th and 18th centuries.
Dr Christopher Kemp, of the office, said it was a "major resource for all who study the history of our county."
The record office said the Raymond Frostick Map Collection included maps where the North Sea is described as the German Ocean - a term often used until World War I - and King's Lynn was called three different names - Linn, Lyn and Lin.
'Historical importance'
The collection also has some extremely rare and unusual maps, most notably some in the form of playing cards.
One playing card map from 1590 bears the inscription: "Norfolke: large, welthy & very populous. Full of corne, sheep and worsted [fabric] commodities."
Dr Christopher Kemp, chairman of the Norfolk Records Committee, said: "Maps and plans are an important source of information for the local historian and the Norfolk Record Office is delighted to receive this outstanding archive, which will be a major resource for all who study the history of our county.
"The historical importance of this collection cannot be overstated and the use which will be made of it for the purposes of research."
Mr Frostick said: "I am very pleased that my collection of Norfolk printed maps will find a good home at the Record Office, where they will be well maintained and available for all who wish to study them."