West Midlands ambulance chief called in to boost east service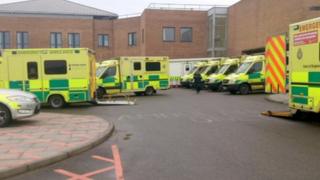 The head of the ambulance service in the West Midlands has been called in to help the East of England operator deal with criticism over poor performance.
Anthony Marsh is to work alongside East of England Ambulance Service (EEAST) interim chief executive Andrew Morgan.
He will review procedures, visit locations and inspect documentation in a bid to suggest improvements.
MPs have been quizzing Mr Morgan over complaints about the service before preparing a report on its performance.
EEAST chairman Maria Ball and Mr Morgan were called to Westminster on Thursday to explain to local MPs what was being done to speed up response times.
April deadline
After the meeting Suffolk Coastal MP Therese Coffey said: "The board needs to think about their own personal responsibilities and where the service has got to."
The MPs were preparing a report on the ambulance trust and its performance.
"The board needs also to consider between now and the publication of the report how they can help Andrew Morgan to make the changes needed," Mrs Coffey said.
When asked if she believed that meant resignations she said "the board members should consider their positions carefully".
Mr Morgan said that he welcomed Anthony Marsh's review of the trust.
"He is meeting staff, visiting control rooms and looking at documents," Mr Morgan said.
"We have told him we would welcome his input on how to improve the service.
"Chair Maria Ball and I met Anthony last Friday and I have provided him with details on key issues and contacts.
"It is hoped at this stage that the review will be completed by the end of April."