Wymondham Abbey awarded £1.5m Heritage Lottery grant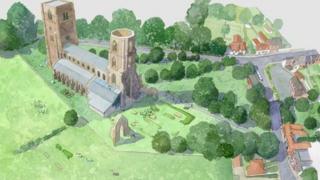 A visitor centre, study space and new choir vestry are set to transform a 900-year-old Norfolk abbey after funding of £1.5m was awarded.
Wymondham Abbey was given a Heritage Lottery grant towards the £2.5m Abbey Experience Project.
The remaining funds are coming from the abbey and other organisations.
Canon Christopher Davies said the planned improvements to the site would "strengthen the abbey's place in the community".
The Grade I-listed building is officially known as the Church of St Mary and St Thomas of Canterbury.
It has two towers, the larger one built by parishioners and the smaller one erected by Benedictine monks.
'Distinctive form'
A single story extension housing the new visitor education centre is to be built next to the smaller, east tower.
In another part of the grounds, further learning spaces and a choir vestry will be built in the ruins of a former chapel.
There are also plans to recreate a medieval herb garden and allow public access to the wildlife site of Abbey Meadows.
Robyn Llewellyn, head of Heritage Lottery Fund East of England, said: "The distinctive form of the abbey, visible from miles around, must spark many questions in people's minds. This project will provide answers and so much more for visitors young and old to experience, and learn from."
The £1.5m grant has been boosted by £500,000 from the Wymondham Preservation Trust.
The abbey has also used some of its own resources with further financial support from South Norfolk District Council, Geoffrey Watling Charity, Norwich Town Close Estate and private donations.