Norwich Cathedral peregrine falcon lays her first egg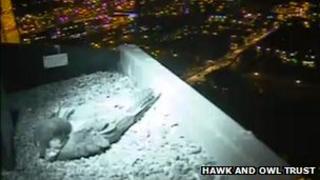 A peregrine falcon has laid an egg on Norwich Cathedral spire fuelling hopes it will be the start of new brood for the city.
The egg was spotted on a live webcam feed from the cathedral spire at about 16:00 GMT on Thursday.
Experts say the parents appear to have already started incubating the egg because of the cold weather.
Four eggs were laid in 2012 with three hatching. The chicks were the first born in Norwich for 200 years.
Fledging successfully they began to learn to hunt around the cathedral before leaving the city to establish their own territories.
Nigel Middleton, conservation officer at the Sulthorpe Hawk and Owl Trust, said: "This appears to be the same breeding adults as last year but because of the cold weather coming we're assuming she'll incubate the egg much longer than normal.
"Usually the female would leave the incubation until more eggs have arrived.
"Mum and dad are sharing the incubating, clearly he's a modern father."
The specialist platform for the peregrine adults, set up by the Hawk and Owl Trust on the cathedral's spire in 2011, simulates a cliff-face at 75m (246ft) high.
Activity on the ledge is being followed 24-hours a day by two cameras, one of which is broadcast on the internet.
Peregrine falcon numbers declined during the 19th and 20th Centuries due to illegal shooting and use of certain pesticides on farms.
The first permanent recording of a breeding pair in Norfolk for hundreds of years happened in 2010 at a granary site in North Lynn.
A viewing area at the cathedral, set up by the Hawk and Owl Trust, will be open to the public from Tuesday.