Military Cross: Wounded L/Cpl Lawrence Kayser drove off insurgents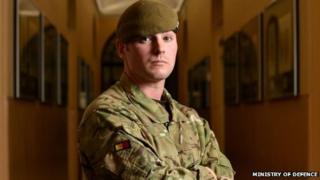 A 27-year-old soldier from Norfolk who single-handedly drove off a group of insurgents in Afghanistan has been awarded the Military Cross.
L/Cpl Lawrence Kayser, from Woodton, was serving with The 1st Battalion The Royal Anglian Regiment.
His platoon of soldiers was taken by air deep into enemy territory to clear a notorious insurgent-held area.
The soldiers were involved in a series of battles over 10 days.
In the early hours of 21 June last year the platoon was waiting in ambush at an insurgent route in Gereshk Valley.
Towards dawn the enemy fighters set up behind a compound wall 3m from the patrol and a ferocious fight erupted.
L/Cpl Kayser, positioned near the rear of the platoon, realised all the men were now at risk from an attack coming from the compound.
He leapt from his ditch and sprinted around the wall in case Taliban fighters were there and came face to face with an insurgent.
"It was a surprise for both of us," said the soldier.
"I just had the feeling I wanted all the angles covered. I fired from the hip.
"Luckily he missed but I clipped him in the abdomen. He dived back as I dived to the side."
Shrapnel wounds
L/Cpl Kayser then set off in pursuit, but a grenade was hurled and he was hit one the arm by shrapnel.
Despite a "bee sting" sensation in his arm he pressed forward and the enemy fled, allowing him to clear the rest of the compound.
It was only when he returned to his base five hours later that he discovered the extent of his wounds.
His citation reads: "Still only an inexperienced Lance Corporal, the decisions Kayser made that day were in the full knowledge of the extreme danger he would be exposed to.
"Kayser's exceptionally gallant actions undoubtedly saved a potentially disastrous situation and are worthy of very significant national recognition."
He said: "I'm not sure I'm worthy of it. I've never been a medal man, but my parents are ecstatic."