Norwich city centre homes damaged by fire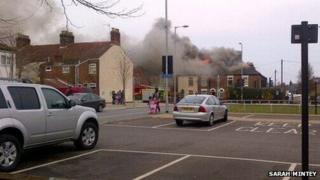 Drivers in Norwich continue to face disruption following a blaze in a row of houses in the city centre.
Emergency crews were called to the incident on Magpie Road about 11:00 GMT.
It appears the fire started in the roof of one house and spread to three others. A woman in her 60s was treated by ambulance staff at the scene.
Magpie Road remains closed to traffic from Waterloo Road to Magdalen Road.
An investigation into the cause of the fire is under way.