Downham Market residents salute RAF Marham Tornado crews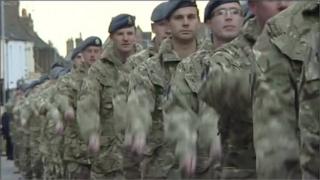 Hundreds of local people lined the streets of a Norfolk town for the homecoming parade of a squadron from RAF Marham.
The IX Squadron who fly Tornado attack and reconnaissance aircraft have just returned from a tour in Afghanistan.
Their parade through Downham Market was welcomed by hundreds of residents.
The future of the base was secured this week with the government announcing that it would become the home of the next generation of fighter jets.
The Tornado base at RAF Marham in Norfolk had been threatened with closure under the government's defence review.
Base commander Group Captain David Cooper said he was delighted with the turn-out of local people and that the base was saved from closure.
"The Tornado role is going to stay the same, that is to support ground troops whether they are British Army, Royal Marines or coalition partners.
"As the troops withdraw it's often the case that air power serves an important purpose even if there are fewer people in the ground at that time."
This week the government announced that the new strike aircraft Lightning II would be based at RAF Marham.
The base commander said it would give the people who served there and the local community security and stability.