Norfolk kerb trip PC Kelly Jones 'continuing claim'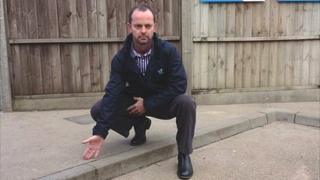 A police officer suing a garage after she tripped on a kerb is continuing with her compensation claim despite calls for her to withdraw it.
Kelly Jones, 33, is seeking payment from a filling station in Thetford, where she was called out to investigate a suspected night-time break-in.
She claims she hurt her wrist and leg by tripping on a kerb.
Law firm Pattinson Brewer said her claim would continue "while details of what happened to her are investigated".
The claim came to light after the BBC saw a letter to Thetford petrol station owner Steve Jones, stating PC Jones went to the Nuns' Bridges garage on 25 August last year following a suspected break-in.
It stated she tripped on a kerb and fell while walking towards a gap in the fencing near a jet wash, in order to access the rear of the premises.
The letter claimed she injured her left leg and right wrist and had to go to hospital.
Sick leave
The claim alleges the petrol station was at fault for failing to ensure she was "reasonably safe", making no attempt to light the area or warn her about the step.
Norfolk Chief Constable Phil Gormley said he did not support his officer's claim and Norfolk's police and crime commissioner Stephen Bett urged her to withdraw it.
But PC Jones' claim is backed by the Police Federation.
A statement from Pattinson Brewer said: "Kelly Jones... is currently continuing with her claim while details of what happened to her are investigated.
"The injuries... required medical treatment and she was on sick leave for some six weeks. She is still receiving on-going treatment to bring about her full recovery.
"A police officer can lose pay, promotion and career prospects by being injured while working.
"Kelly loves her job and accepts the many risks she faces. But she does not accept that simply because her job is inherently dangerous that public places are absolved from ensuring that their premises are safe to visit."
Petrol station owner Mr Jones described the case as "shocking".