King's Lynn hospital calls in off-duty staff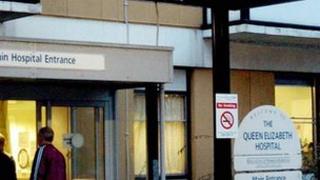 A hospital in Norfolk has had to call in off-duty staff because of what its says is a "huge amount of pressure" on its services.
The problems began at Queen Elizabeth Hospital (QEH) in King's Lynn on Sunday when ambulances were left queueing to hand over patients.
The hospital had to open up an extra ward and ask nurses not on shift to come in and staff it.
It has asked those with "relatively minor conditions" not to attend A&E.
Nursing director Gwyneth Wilson said the hospital had been getting increasingly busy in recent weeks.
'Needed staff'
"It culminated at the weekend when we were unable to off-load patients out of ambulances and we had several ambulances queueing for quite a long time.
"I opened an escalation ward and obviously we just needed staff to come in and man that ward for us.
"That ward now has 26 patients in it - it was empty yesterday," she added.
Ms Wilson believes the prolonged cold weather, which is dangerous for those with respiratory or cardiac problems, was a factor in the increase in numbers of people going to the QEH.
She said many patients already in hospital were very ill.
"I think that's the issue we've got," she said.
"The patients that are in-patients are very poorly so we're not able to turn them round as quickly as we'd like to."
Ms Wilson also blamed the lack of community beds for placing more pressure on the hospital.
"People aren't being able to be cared for in the community either, because we don't have so many community beds as other counties do."
Last Monday a major incident tent had to be set up at the Norfolk and Norwich University Hospital after ambulances were left queueing at the hospital for three hours due to an increase in demand for services.