Norfolk grandfather 'saves boy from Germany paedophile ring'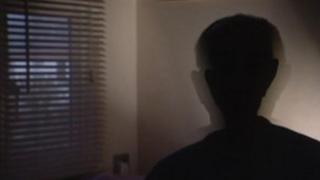 A Norfolk man has said he risked arrest to rescue his teenage grandson from a suspected paedophile ring in Germany.
The boy, who is British and cannot be identified, is living at a secret address in East Anglia over fears he could be abducted and trafficked.
A hospital porter and a family doctor are being investigated as part of an alleged ring of abusers in Germany.
Hertfordshire Police have interviewed the child and sent his statement to Interpol.
The boy helped his grandfather plot his escape without his mother and stepfather's knowledge.
The grandfather told the BBC he did not recognise his grandson when he finally came face-to-face with him.
'Stopped eating'
"He'd lost about three stone, he was very pale, so thin, he looked more like a refugee," he said.
The boy was living in a small town in Germany and said he had become "really desperate" and lost a lot of weight.
"I just stopped eating, I felt that I had to leave," he said.
"I probably wouldn't be here if I'd kept on losing weight."
The boy, whose mother is British and father German, said he was in deep trouble and wanted to take his life.
The grandfather risked arrest for taking a person under 18 out of Germany, and travelled by road and rail with his grandson to avoid the authorities.
From Nuremberg, they went to Cologne before heading for Brussels to catch the Eurostar train.
Three weeks after arriving in England, the grandson felt able to reveal he had been a victim of sexual abuse.
He also said a family doctor linked to his abuser was targeting him with emails.
'Very thankful'
Solicitor Melinda Nettleton sent a letter to the alleged abuser warning she would seek an injunction and that no English court would return the child to Germany.
She added that police in Germany were investigating, along with officers in Greece, where the boy is alleged to have been raped while on a family holiday.
The boy and his grandparents now live at a secret address, with the boy adding that he was "very thankful and relieved" to be in Britain.
The grandfather added: "There have been threats made to snatch him back and the police are aware of that."