Guy Stewart Callendar: Global warming discovery marked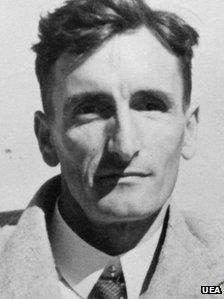 Seventy-five years ago an amateur scientist made a breakthrough discovery in the field of climate change.
Guy Stewart Callendar linked global warming to CO2 emissions but his work went largely unnoticed at the time.
Now the anniversary of his discovery has been commemorated by two leading climate scientists.
Prof Phil Jones, from the University of East Anglia in Norwich, and Dr Ed Hawkins, from the University of Reading, have published a paper looking at Callendar's legacy.
Prof Jones said the steam engineer's work was "groundbreaking".
Callendar, born in Montreal, Canada in 1898, made all his calculations by hand in his spare time, decades before the effects of global warming became widely debated.
The son of English physicist Hugh Longbourne Callendar, who studied thermodynamics, Callendar worked from his home in West Sussex.
A steam engineer by profession, his research first appeared in the quarterly journal of the Royal Meteorological Society in April 1938.
'Fundamental contribution'
Prof Jones, of the UEA's Climatic Research Unit, and Dr Hawkins, from Reading's National Centre for Atmospheric Science, have had their commemorative research paper on Callendar published in the same journal this month.
"Callendar was the first to discover that the planet had warmed," said Prof Jones.
"He collected world temperature measurements and suggested that this warming was related to carbon dioxide emissions."
This became known for a time as the "Callendar Effect".
"He is still relatively unknown as a scientist but his contribution was fundamental to climate science today," said Prof Jones.
Callendar, who died in 1964, aged 66, thought global warming was good because it would stop what he called "deadly glaciers" returning and could boost the growth of crops at high latitude.
Although Callendar's estimates on global warming were quite simple, Dr Hawkins said they had proved fairly accurate compared with modern analysis.
However, some people remain sceptical about the relationship between carbon emissions and climate change first identified by Callendar.
Dr Hawkins said: "Scientists at the time also couldn't really believe that humans could impact such a large system as the climate - a problem that climate science still encounters from some people today, despite the compelling evidence to the contrary."
Related Internet Links
The BBC is not responsible for the content of external sites.