Gorleston schoolboy burnt in aerosol attack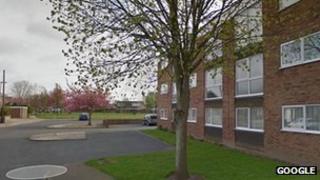 A teenager suffered burns after two people sprayed and lit an aerosol in his face as he was walking home from school in Norfolk, police said.
The 13-year-old was attacked around 15:40 BST on Wednesday in an alleyway between Kalmia Green and Hazel Way in Gorleston, near Great Yarmouth.
He was taken to hospital for treatment to minor burns on his face.
One of the attackers held and flicked a lighter before he was passed an aerosol that briefly ignited when sprayed.
The two males then ran off laughing.
The perpetrators are both described as white, around 5ft 10ins (1.77m) tall, well-built, with one wearing a light-coloured hooded top with the hood up, and the other wearing a red hooded top with the word Wills in white on the chest.