UK Barista Championships: Alex Sargeant 'one to watch'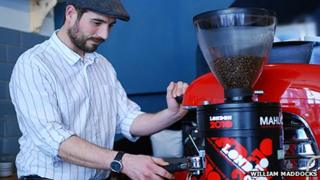 A man from Norwich who spent six months creating a signature coffee for the UK Barista Championships has been tipped by a world judge as "one to watch".
Alex Sargeant, 30, from Strangers Coffee in the city, missed out on a place in the 2013 final at the weekend.
He said: "I've achieved what I wanted, to be one of the top 20 baristas in the UK. So no, I'm not disappointed."
Mr Sargeant created an "Apple Mac" for the judges which presented a macchiato with fenugreek cream and apple foam.
"I'm really, really impressed with how far I got as the calibre of people around me in the competition was amazing," said Mr Sargeant.
"It was the flavour notes on my coffee that let me down at the judges couldn't find them, but coffee is a really personal thing."
To compete in the UK Barista Championship (UKBC) Mr Sargeant's signature drink had to retain a dominant espresso flavour.
During his London Coffee Festival performance he had 15 minutes to make four espressos, four cappuccinos and four signature drinks which were judged for their technical accuracy and sensory values.
Jamie Banwell, a UKBC and world coffee events judge, said: "Alex is a very strong competitor, relatively new, but one to watch.
"He scored strongly in his signature drink and cappuccino. He's imaginative and had a professional approach to his coffee and the competition.
"The UKBC needs experience, but with the right coffee and more hard work we'd expect to see him in the finals."
Mr Sargeant said to make the semi-finals was "really satisfying".
He added: "I need to brush up on my technical skills and my presentation, but you learn from that and get ready to come back next year."
The UKBC was won by John Gordon from London's Square Mile Coffee Roasters. He will now represent the UK at the World Barista Championships in Australia in May.