RAF Coltishall: Business interest at ex-airbase 'encouraging'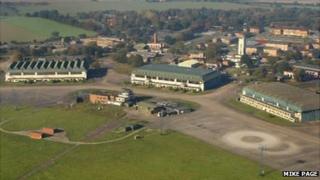 Interest from businesses and community groups to use part of a former RAF base in Norfolk has been "encouraging", according to a county council officer.
Six hundred acres (242.8 hectares) of RAF Coltishall were bought by the authority for £4m in January.
Tim Edmunds, Coltishall project sponsor, said 10 firms had approached the council about using the ex-base.
He added he expected "positive news" from the developments in the coming weeks.
It is hoped hundreds of jobs will be created at the site, which was put up for sale by the Ministry of Justice (MoJ) last year. Some of the site could be turned into business units, farmland and housing.