Norwich UEA new halls of residence to be built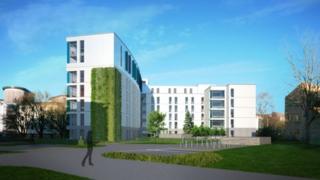 The University of East Anglia (UEA) is to build a 231-bed halls of residence to meet "increased demand" for student accommodation.
The new block, which has just received planning permission, will be a "fast track development" to be ready for the 2014 intake, the university said.
It will be situated near the Bluebell Road entrance to the campus in Norwich.
The UEA said 69% of the building's energy could be provided by renewable sources.
It includes water recycling for toilets, triple glazing and solar energy panels.
UEA deputy vice-chancellor Prof David Richardson said: "The new student residence building will not only be a valuable resource for new students joining UEA in 2014, but a leading example of environmentally sustainable, architecturally significant construction.
"Energy efficiency is important to both the university and also increasingly for students and we look forward to welcoming new residents to the building next year."
The UEA has a raft of other plans for its 50th year, including the creation of a new teaching building and the renovation of the 17th Century Earlham Hall, the "home" of its law school.
The Ziggurats, a group of 1960s terraced halls of residence which are grade II listed, are to be restored and refurbished.