King's Lynn incinerator: Public inquiry ends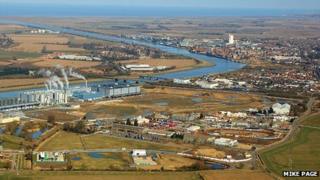 The consortium behind plans for an energy-from-waste incinerator in West Norfolk has denied claims toxic ash could cause problems during a flood.
Cory Wheelabrator wants to build the plant at King's Lynn and a 30-day public inquiry has now ended.
The company's lawyer disagreed with the assessment of the flood risk by opponents of the scheme such as the King's Lynn Without Incineration group.
The government is due to rule on planning approval later this year.
The proposal had the backing of Norfolk County Council, where the Conservatives lost overall control in this month's elections, but it is opposed by Tory-controlled West Norfolk District Council.
The county council, which is in charge of disposing of waste, argued Norfolk needed an alternative to landfill sites.
Figures 'doubt'
Cory Wheelabrator said the Willows site, off Saddlebow Road, was ideal for an incinerator because it could supply heat and power to nearby housing and industry.
Richard Philips QC, the company's lawyer, argued that the flood risk at the site was no greater than other sites which had been considered at Snetterton, Costessey and Broadland Business Park.
The lawyer for West Norfolk Borough Council, Natalie Lieven QC presented figures which indicated Norfolk would produce 25% less waste than the county council had predicted in support of the project.
She told the inquiry savings and value for money were "seriously in doubt" and no figures had been produced to back up the claims of £8m a year being saved.
The Saddlebow plant would be designed to create electricity by burning about 250,000 tonnes of waste a year.
A decision on the findings of the public inquiry is expected to be made by Eric Pickles, the Secretary of State for Local Government and Communities, by the end of September.