Chelsea Flower Show: Peter Beales Roses wins gold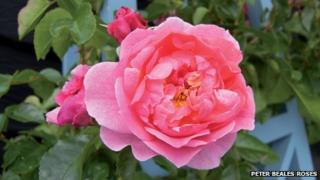 A company founded by a man who grew roses for the Queen has claimed its 20th gold at the RHS Chelsea Flower Show, five months after his death.
Peter Beales Roses, from Attleborough, won the award for a stand in the Great Pavilion, featuring follies swathed in climbing and rambling roses.
The recognition comes as "fitting tribute" to Mr Beales, who died aged 76 in January.
His son Richard said the award added to his father's "legacy".
The stand features more than 1,100 rose plants including Pippin, a new rose created in honour of Mr Beales.
'Incredibly proud'
Richard Beales, managing director, said: "To me, there couldn't be a more fitting way, to not only remember but add to the legacy that my late father has left us by winning the gold in such an important year.
"I know he would have been incredibly proud of what the team have achieved."
Mr Beales grew the Queen's rose for her Diamond Jubilee last year. He was known as one of the world's leading rose growers.
Speaking after Mr Beales' death, celebrity gardener Alan Titchmarsh described him as a "great gardener" whose influence was "unique".
Mr Beales was awarded the Victoria Medal of Honour by the RHS in recognition of his success as a rose grower, which began in 1968, when he opened his business in Swardeston.
The award marked the nursery's eighth consecutive gold.
Thorncroft Clematis Nursery, from Reymerston, also won gold in the same category, marking its 7th consecutive gold at the show.