Stephen Fry figure unveiled in Norwich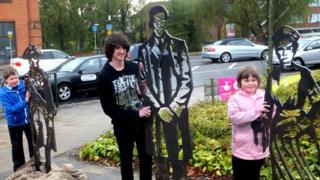 Figures of Stephen Fry, Lord Nelson and Edith Cavell, designed by children, have been unveiled in Norwich.
The trio, who all have links to Norfolk, have been immortalised in sheet steel around a "portrait" bench, near the city's railway station.
The winning designs were chosen by the city council after it ran a competition in schools.
Councillor Bert Bremner said: "It would be interesting to know what Stephen Fry would make of it."
He added: "They're so good and we hope people will stand next to them and have their pictures taken."
The life-size models mark the completion of a £311,000 city cycling project, funded by charity Sustrans and the Big Lottery Fund, to include new cycle and pedestrian routes and reduced speed limits for motorists on some roads.
The figures are based on winning portraits by local pupils Charlotte Smith, Rufus Child and Peter Allen.