Ex-Norfolk chief Gormley says officers' duty can mean harm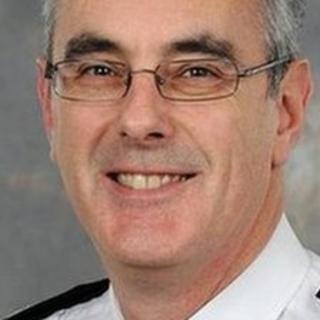 A departing chief constable has said an officer who is claiming damages from a Norfolk garage owner over a fall has every right as a citizen to do that.
But Phil Gormley, who leaves as head of Norfolk Police on Friday, said they were not his police values.
"You join the police to protect the public and on occasions you may have to put yourself in a position of harm."
He would not comment directly but was referring to Norfolk PC Kelly Jones in an interview with the BBC.
PC Jones has filed a compensation claim against Steve Jones, the owner of Nuns' Bridges garage in Thetford, for failing to ensure she was "reasonably safe" while attending a suspected break-in on 25 August.
"In recent weeks officers from Norfolk have been commended for saving people's lives," Mr Gormley said. "That's what I mean about values.
"Two officers have recently received awards for going into the North Sea to save a person having a breakdown.
"Others have saved people at local football matches.
"Those are the values that are at the heart of the British police that I've seen during my 28-year career."
Stop and search
Mr Gormley is leaving Norfolk to head the new National Crime Agency.
In the interview with BBC Look East he said it was a once in a career opportunity he could not turn down but he was leaving the county with a heavy heart.
He added he had some doubts over the past few weeks but was now sure he was doing the right thing.
He was also proud that crimes of violence, burglary and theft had fallen in the three years he was in charge in Norfolk.
But he said he was equally proud he had brought to the fore hate crimes, sex offences and child abuse where victims may in the past have been reluctant to come forward and make a report.
"I told my officers not to be afraid of using the powers that Parliament had given them because it would add to crime figures," he said. "That should not stop them doing their jobs."
Stop and search powers were used to clampdown on anti-social behaviour, people going equipped for burglary or carrying offensive weapons and selling drugs.
But he said his successor would have a hard time with the challenge of cutting budgets further.
This would call for more collaboration with neighbouring police forces, county councils and other agencies in the public sector, he said.