Mysterious Wymondham double yellow lines investigated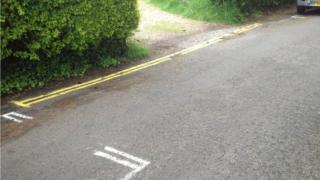 Double yellow lines that have mysteriously appeared on a Norfolk town road are to be investigated by the county council.
A resident of Friarscroft Lane, Wymondham, said the lines, which prevent vehicles from parking, had appeared within the past month.
Tim Edmunds, Norfolk County Council, said he did not know who painted the lines, which will be removed.
"To be fair, they've done a good job," he said. "They look official."
The council said it had received complaints from residents about the double yellow lines, which are about 10 metres (32ft) in length and run across the driveway of a house.
'Obviously fresh'
Mr Edmunds, highways network manager, said: "The lines that have appeared are not ones the county council has put down.
"This is the first occasion I've ever come across that someone has taken it upon themselves to paint double yellow lines."
He said in similar incidents, where the highway has been damaged "unlawfully", the council would look to recover costs in "putting it right".
BBC Radio Norfolk reporter Wally Webb said the lines were "obviously fresh" and "not quite as well defined as the others" on the road.
None of the local residents he spoke with wanted to go on the record with their comments.