PC Gareth Kingston not deterred by knife attack in Norfolk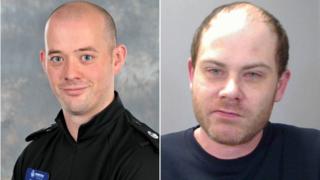 An inexperienced police officer who required surgery after being attacked with a knife says the "traumatic" incident has not put him off the job.
PC Gareth Kingston had only been in the role for six months when he attended what he described as a "routine call".
When he got to the house in Newton St Faith, near Norwich, he was stabbed by Roland Oliver, who has been jailed for seven and a half years for the offence.
"Fortunately in Norfolk it's something we don't confront very often," he said.
Oliver, 34, of Fairholme Road, Newton St Faith, was found guilty of the attack by a jury at Norwich Crown Court on Thursday.
PC Kingston was off work for five weeks following the incident in October and required surgery for the cut to his hand.
He said he and another officer had attended the scene after reports that Oliver had been smashing bottles outside his house.
'Heart jumps'
When he was confronted by Oliver, PC Kingston said he used an incapacitant spray spray to try and stop him.
"It was at this time that Oliver attacked me with a knife, bringing it down from above his head towards my neck area," he said.
"I reacted by moving backwards and raising my left hand. That's when he made contact with my left hand."
PC Kingston said Oliver then lifted the knife again.
"I believe he was trying to make a second attempt to stab me, that's when I grabbed his wrist with my injured hand and wrestled him to the floor," he said.
Oliver was detained and arrested with the help of PC Kingston's colleague.
PC Kingston said "instinct" and "thorough training" helped him deal with the situation.
"Before going to this job I would have had no expectation of being attacked with a knife," he said.
"It's an extremely hard situation to describe. Your heart jumps, everything seems to slow down but at the same time be exceptionally quick.
"You have to make decisions in a very short space of time."
He said he would not let the incident deter his role with the force.
"I joined the force for various reasons and they haven't changed as a result of this situation," he said.