Car crashes through Aylsham Garden Centre in Norfolk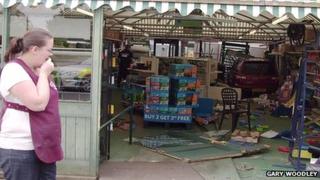 A garden centre has reopened after a car crashed through it, causing damage estimated at about £50,000.
The Subaru Forester crashed into Aylsham Garden Centre in Norfolk at about 11:00 BST on Friday.
Business owner Susan Woodley said: "It ploughed through everything: watering cans, grass seed, feed and shelving."
Lorna Hudson, 66, from Drabblegate, Aylsham, has been charged with drink-driving and is due to appear before Norwich magistrates on 20 June.
Nobody was injured in the crash at the garden centre in Norwich Road, Aylsham.
'We were lucky'
Mrs Woodley said: "We heard a huge bang. My lad watched the car come all the way through the store and end up hitting the brick wall next to the greenhouse.
"We were very lucky. If anyone had been in the building at the time it could have been a different story."
She said a staff member's car was also written off in the crash, and estimated the total cost of the damage at £50,000.
The crash also cut off the garden centre's telephone lines, meaning customers were unable to pay using credit and debit cards.
"We could have done without this at one of our busiest times, after all the bad weather we've had this past year," said Mrs Woodley.
She said staff had worked hard over the weekend to clear up and reopen the garden centre.
"We're all exhausted. I can't praise the staff enough - they have been brilliant."