Ship's fender washed up on Norfolk beach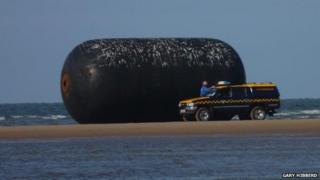 Coastguards are trying to find the owner of a "huge" ship's fender that has washed up on a North Norfolk beach.
The rubber fender - called a Yokohama fender - is 30ft (9m) long and 20ft (6m) high and is on the beach near to Thornham.
It was first spotted by a standby vessel working on the Skegness wind farm on Saturday.
Mario Seano from the Humber Coastguard said the only way to move it was by deflating it or bringing in a tug.
"It's like a whacking great black pudding," Mr Seano said.
"It's not something you can stick on the back of a lorry and just cart it away."
A fender is a bumper used to protect a boat or ship from damage when it comes into contact with other vessels, a jetty or quay wall.
Hunstanton-based William Searle took his pleasure boat the Wash Monster to inspect it.
"No-one has come forward to claim it, which leads me to believe that with the strong northerly winds we have had recently it could have come from as far away as Norway," he said.
Mr Seano said they had managed to get a serial number from it and a local company that supplies the boating industry with fenders was trying to chase the number.
He said the fender was attracting quite a few tourists.
"Go and look at it if you've never seen one, because you don't realise the size," he said.
When you see a supertanker and its got one of these things hanging over the side it doesn't look very big.
"Put it in the middle of a local beach and it is absolutely huge."